If you are a pet owner, you will surely be able to list a number of occasions in which the behavior of your furry friends surprised you or intrigued you. Most pet owners and animal lovers do not hesitate to affirm that animals do have their own personalities.
Although from a scientific point of view this can be hard to prove, the truth is that there have been several animal personality studies that have assessed traits like extroversion, neuroticism, openness, and agreeability in dogs, birds and even spiders. Of course, you might say, you don't need to be an expert in biology to know that!
Now, if pets do actually have a personality, it would not be too far-fetched to consider that as you happily explore the New Year, they might be making their own New Year resolutions too. How about that? You know your pet better than anyone, so how do you think his/her list of 2013 resolutions would look like? When asked this question, some pet owners across the US have made the following guesses: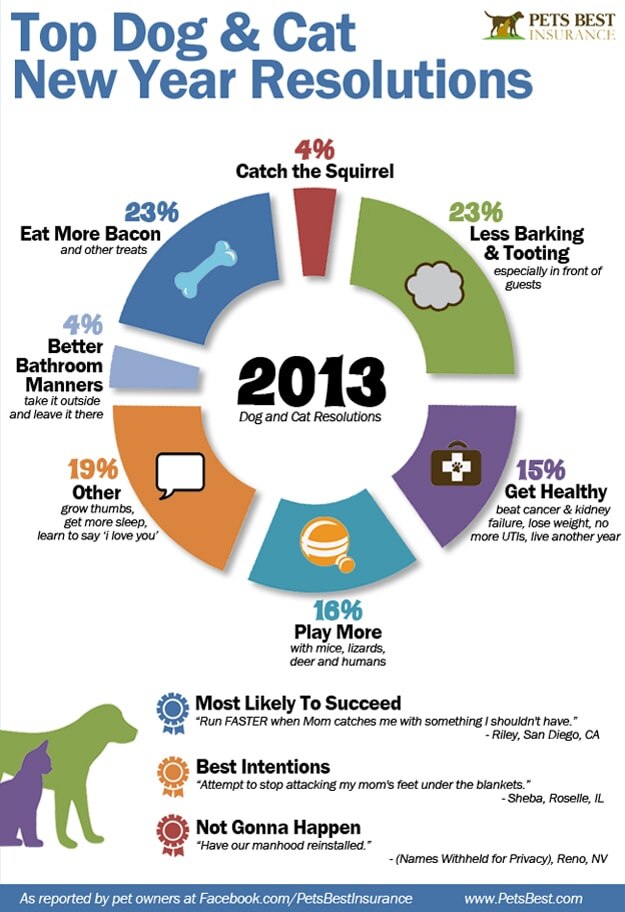 Most Common New Year Resolution
Control their barking and tooting, particularly when there ar guests around the house, along with eating more of their favorite treats (and yes, that includes your bacon).
Second Most Popular Resolution
Getting more sleep, growing thumbs to get hold of their favorite treats (see previous paragraph), and learning to say "I love you" (seriously!).
Other Runners-Up
Optimizing their free time (i.e., playing more), getting fit and healthy, improving their bathroom manners, and … catching that foxy squirrel.
Kidding aside, and regardless whether your furry family member has made New Year resolutions or not, as a responsible pet owner you will want to include in your own list of resolutions ensuring that your pet is covered by comprehensive insurance. Pets Best is among the pet insurance companies that share this concern and offers insurance plans with reimbursement levels that range between 70 and 100 per cent, with no maximum age limits.